The Power of Proper Water Consumption
Hydration and Health: Unlocking the Power of Proper Water Consumption

Water is essential for sustaining life, and its consumption is crucial for maintaining good health. The human body relies on water to perform various physiological functions, from regulating body temperature to aiding in digestion and nutrient absorption. Despite its importance, many people overlook the significance of proper hydration, leading to potential health issues. In this comprehensive guide, we will explore the importance of water, the benefits of staying hydrated, and practical tips on how to drink water for better health.
Section 1:
Understanding the Importance of Water
Water is the fundamental building block of life. The human body is composed of approximately 60% water, and this vital fluid plays a pivotal role in nearly every bodily process. The functions of water include:
Regulating body temperature: Water helps regulate body temperature, ensuring that we can adapt to varying environmental conditions.
Transporting nutrients: Water is the medium through which nutrients are transported throughout the body, aiding in the absorption and distribution of essential vitamins and minerals.
Removing waste products: Proper hydration facilitates the elimination of waste products through urine and sweat, promoting kidney function and detoxification.
Lubricating joints and tissues: Water acts as a lubricant, reducing friction between joints and tissues and preventing discomfort.
Section 2:
The Benefits of Staying Hydrated
Staying hydrated provides numerous health benefits that contribute to overall well-being and vitality:
Improved physical performance: Proper hydration enhances physical endurance and performance, helping individuals to exercise more effectively and recover faster.
Mental alertness and focus: Dehydration can lead to cognitive impairments, affecting concentration, memory, and overall mental clarity. Drinking enough water keeps the mind sharp and focused.
Weight management: Drinking water before meals can help control appetite and reduce calorie intake, aiding in weight management efforts.
Glowing skin: Hydration helps maintain skin elasticity, preventing dryness and promoting a healthy, radiant complexion.
Proper digestion: Sufficient water intake supports healthy digestion and prevents constipation by softening stool and aiding in its passage through the gastrointestinal tract.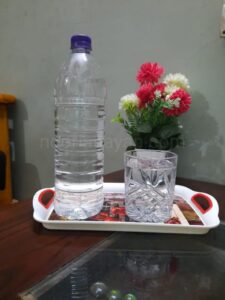 Section 3: How to Drink Water for Better Health
Now that we understand the importance of proper hydration and the benefits it offers, let's delve into practical tips on how to drink water for better health:
Set a daily water intake goal: Aim to drink at least eight 8-ounce glasses of water per day, but individual needs may vary based on factors like age, activity level, and climate.
Carry a water bottle: Keep a refillable water bottle with you at all times, whether you're at work, school, or running errands. This serves as a constant reminder to drink water throughout the day.
Drink water before meals: Consuming a glass of water before meals can help control appetite and prevent overeating, supporting weight management goals.
Create a water-drinking routine: Establish specific times during the day when you'll drink water, such as upon waking, during meals, and before bedtime.
Infuse water with natural flavors: If plain water feels monotonous, add slices of lemon, cucumber, mint, or berries to create refreshing, flavored water without added sugars or artificial ingredients.
Listen to your body: When you feel thirsty, drink water and pay attention to its signals. Don't wait until you're excessively parched, as this can lead to dehydration.
Drink water during physical activity: Whether you're engaged in intense exercise or a light stroll, hydrate before, during, and after physical activity to replenish lost fluids.
Monitor urine color: Use the color of your urine as an indicator of hydration. Pale yellow or straw-colored urine generally indicates proper hydration, while dark yellow or amber-colored urine suggests dehydration.
Remember to drink enough water: You can use smartphone apps or alarms to help you remember to drink water regularly, especially if you often forget.
Conclusion
Water is the elixir of life, and its significance in maintaining good health cannot be overstated. Proper hydration is the cornerstone of a healthy lifestyle, influencing everything from physical performance to mental clarity and skin health. By following the tips outlined in this guide, you can unlock the power of water consumption and enjoy the numerous benefits it offers. Embrace the simple habit of drinking water mindfully, and let it be the foundation for better health and overall well-being. Don't forget, when you keep your body hydrated, it stays happy and healthy!