A Nutritional and Medicinal Marvel
In the world of fruits, the papaya is a star that often takes center stage. Its vibrant orange flesh and sweet, tropical flavor have made it a favorite for fruit lovers worldwide. However, there's more to the papaya plant than just its fruit. The papaya leaf, often overlooked, is a nutritional and medicinal marvel that offers a plethora of health benefits. In this article, we will explore the diverse advantages of papaya leaves and how incorporating them into your diet can contribute to your overall well-being.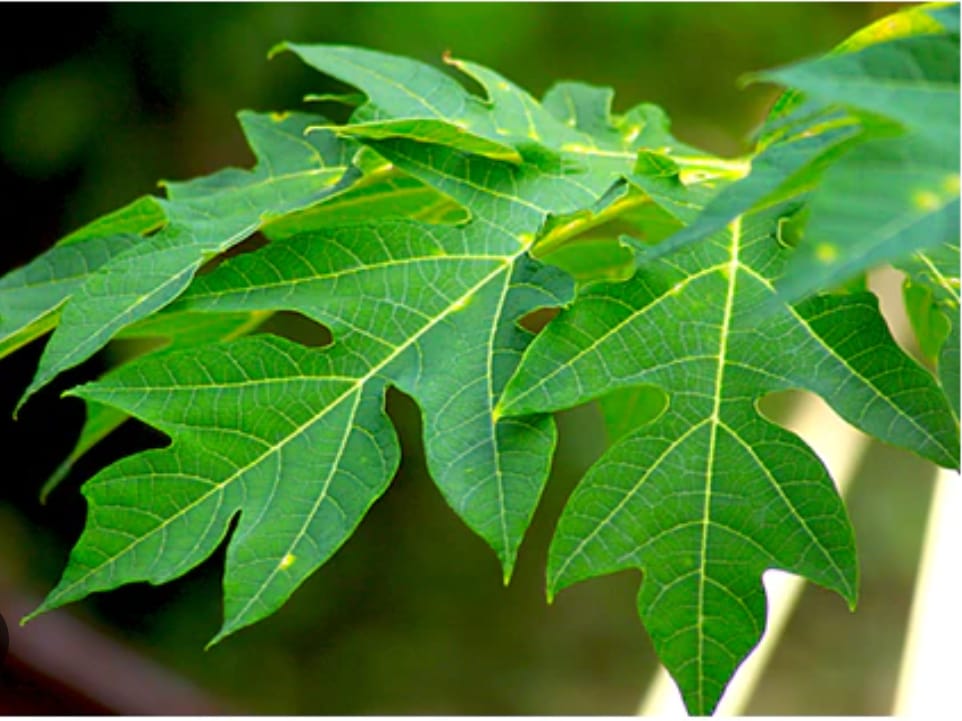 Rich in Nutrients
Papaya leaves are a nutritional powerhouse. They are a great source of essential vitamins and minerals, including vitamin A, vitamin C, vitamin E, vitamin K, and various B vitamins. These nutrients are vital for maintaining healthy skin, promoting good vision, supporting the immune system, and ensuring proper blood clotting. In fact, papaya leaves are known to contain even higher concentrations of certain vitamins than the fruit itself.
Boosts Immunity
One of the standout features of papaya leaves is their exceptional vitamin C content. Vitamin C is a potent antioxidant that plays a crucial role in strengthening the immune system. Regular consumption of papaya leaves can help your body ward off infections and illnesses by enhancing your immune response.
Supports Digestive Health
Papaya leaves are rich in enzymes like papain and chymopapain, which aid in digestion. These enzymes break down proteins, making it easier for the digestive system to absorb essential nutrients. Additionally, papaya leaves contain fiber, which promotes regular bowel movements and helps prevent constipation.
Anti-Inflammatory Properties
"Many long-lasting illnesses often have inflammation as a key cause." Papaya leaves have been found to possess anti-inflammatory properties, which can help reduce inflammation in the body. This makes them beneficial for individuals suffering from conditions like arthritis or inflammatory bowel disease.
Liver Health
The liver is a vital organ responsible for detoxifying the body and processing nutrients. Papaya leaves have been traditionally used to support liver health. They contain compounds that can aid in detoxification and protect the liver from damage caused by toxins and free radicals.
May You Like:Effective Strategies for Mosquito Prevention: Combatting Malaria and Dengue
Natural Remedy for Dengue Fever
One of the most well-known medicinal uses of papaya leaves is in the treatment of dengue fever, a mosquito-borne viral infection. While it is not a cure, papaya leaf extract has shown promise in alleviating some of the symptoms of dengue fever, such as reducing the risk of bleeding and improving platelet count. However, it is crucial to consult a healthcare professional for proper guidance in managing this serious illness.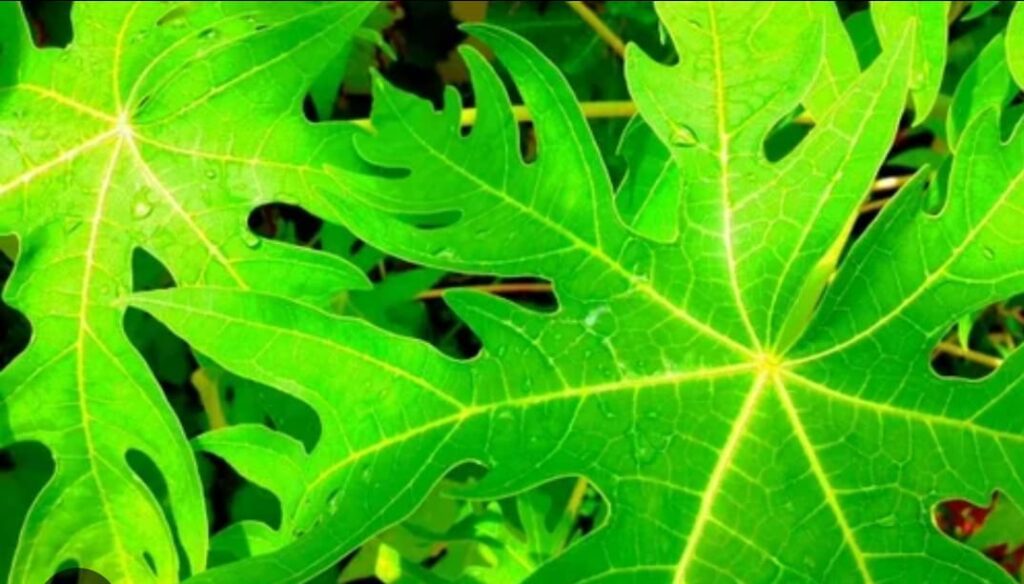 Skin Health
The skin is the body's largest organ, and its health is closely linked to your overall well-being. Papaya leaves can contribute to healthy skin in several ways. The vitamin C in these leaves promotes collagen production, which is essential for skin elasticity and youthfulness. The antioxidants in papaya leaves also help protect the skin from the damaging effects of UV radiation and environmental pollutants.
Anticancer Properties
Emerging research suggests that papaya leaves may have potential anticancer properties. Some studies have shown that compounds in papaya leaves, such as acetogenins, may inhibit the growth of cancer cells. While more research is needed in this area, it highlights the exciting possibilities of papaya leaves in cancer prevention and treatment.
Diabetes Management
For people who have diabetes, it's really important to keep their blood sugar levels in check. Papaya leaves contain compounds that may help regulate blood sugar levels. Some research has indicated that papaya leaf extract can enhance insulin sensitivity, making it a potentially valuable adjunct to diabetes management.
Heart Health
"Taking care of your heart's health is very important for your overall wellness." Papaya leaves can contribute to heart health by helping to lower blood pressure and reduce cholesterol levels. The antioxidants in papaya leaves also protect the heart and blood vessels from oxidative stress and inflammation.
Pain Relief
Traditional medicine in many cultures has utilized papaya leaves for their analgesic properties. Applying crushed papaya leaves to areas of pain, such as joint pain or insect bites, can provide relief. Some people also use papaya leaf tea as a natural remedy for headaches and migraines.
Weight Management
Keeping your weight in a healthy range is very important to avoid different health problems. Papaya leaves, with their low calorie and high fiber content, can be a valuable addition to a weight management plan. The fiber helps promote a feeling of fullness, reducing the likelihood of overeating.
Respiratory Health
Respiratory problems, such as asthma and bronchitis, can significantly impact one's quality of life. Papaya leaves have been used traditionally to alleviate respiratory symptoms and improve lung function. The anti-inflammatory and antioxidant properties of papaya leaves may help soothe irritated airways.
Antiviral and Antibacterial Properties
In addition to its role in dengue fever management, papaya leaf extract has shown antiviral and antibacterial properties in laboratory studies. It may help combat common infections and promote faster recovery.
Wound Healing
The papaya leaf's proteolytic enzymes, such as papain, can aid in wound healing. Topical application of papaya leaf paste or extract to minor cuts and burns may promote faster recovery and reduce the risk of infection.
How to Incorporate Papaya Leaves into Your Diet
Now that we've explored the numerous benefits of papaya leaves, you may be wondering how to incorporate them into your diet. Here are some simple ways to enjoy the goodness of papaya leaves:
Papaya Leaf Tea: Steep dried papaya leaves in hot water to make a soothing and nutritious tea. You can sweeten it with honey or a natural sweetener if desired.
Papaya Leaf Smoothie: Blend fresh papaya leaves with your favorite fruits and vegetables to create a nutritious and refreshing smoothie.
Salad Greens: Add young papaya leaves to your salads for a peppery and slightly bitter flavor that complements other greens.
Papaya Leaf Extract: Some health food stores offer papaya leaf extract supplements, which can be a convenient way to enjoy the benefits of papaya leaves.
Herbal Medicine: Consult with a qualified herbalist or healthcare professional for guidance on using papaya leaf extract or other forms of papaya leaf remedies for specific health concerns.
Papaya leaves may not have the same widespread recognition as the fruit itself, but their health benefits are undeniable. From boosting immunity and aiding digestion to potentially offering relief for various ailments, papaya leaves are a versatile and valuable addition to your diet and wellness regimen. Whether consumed as tea, incorporated into salads, or used in herbal remedies, papaya leaves offer a natural and delicious way to support your overall health and well-being. However, it's essential to consult with a healthcare professional before using papaya leaves as a treatment for specific medical conditions to ensure safety and effectiveness. Embrace the power of papaya leaves and unlock their full potential for a healthier and happier life.